Here is how some of the people at Naf-Banka came to have their own well.
Naf-Banka is a large village, about 20 km from Kombissiri, south of Ouagadougou. Like so many villages in Burkina Faso, it is spread out. There is a market there, and a school and next to the market there is a pump which gives clean water. But many of the people live 45 minutes' walk away and more. They asked one charity if they could provide a well and pump nearer to them but that charity does not work in that area. So they asked Myra's Wells if we could help.
Fact finding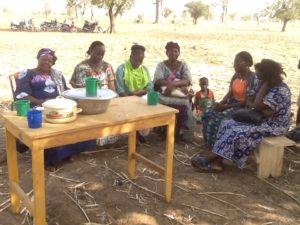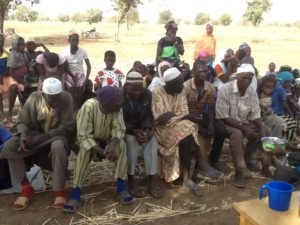 We always check what we are told! Wells cost money – which has been given to us to use wisely. Christine and Angela went to see the village and completed the usual application form. In the rainy season, the people used water from the river, rather than going the 3km to the pump. We agreed that the well was needed.
Yes, go ahead!
And so it was that in April, we sent the surveyor to do the usual survey. Son afterwards, the drilling team arrived on site and a few hours later, there was a new well. As always, the borehole was capped while the water went for testing in Ouagadougou. Very quickly, the laboratory issued a certificate confirming the water quality. This picture shows Christine giving this certificate to the people in the village while a little boy samples the water.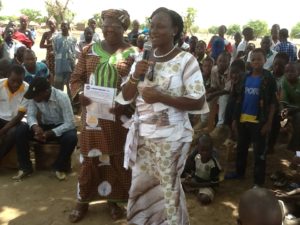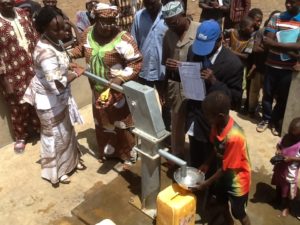 The well is finished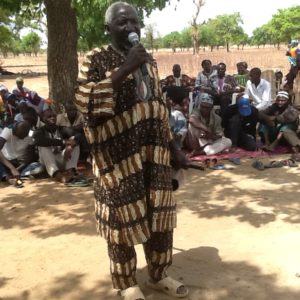 With the water passing the quality checks, we sent the builders to fit the pump and build the surrounding wall and cattle drinking trough. It is now being fully used. And during the "well blessing" service, the villagers heard about the "water of life" from the pastor while he thanked God for their own well. Naf-Banka is well number 112 on the list. Click here to see the full list.
Their own well for drinking, cooking, washing, crops and their cattle
Before the well was completed, we heard that everything was dirty – their clothes, plates and the people themselves. Burkina Faso is a very dusty country after the rains have stopped, so that was understandable. But now, they have water to drink, cook with, wash in, water crops with and give to the livestock. Christine always emphasises the need for personal hygiene when she gives them their certificate!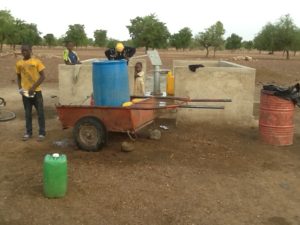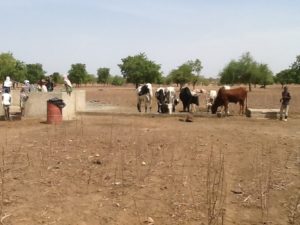 We want to give more villages their own well
When we have water on tap (literally), we take it for granted. If you would like to help to give another village their own well, take a look at our "how to donate" page. All donations go 100% to wells projects as our trustees fund all other expenses.