Help to provide clean water in Burkina Faso. Every penny we receive is used towards well building projects. Myra's Wells trustees personally fund all other expenses, including travel, publicity and administration costs.
'Where there's a will there's a well'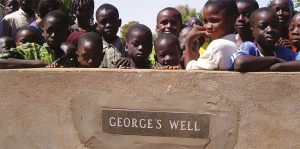 You can keep the memory of you or your loved ones alive by remembering Myra's Wells in your will. Please contact us for details (see contact details below).
One off giving or
Regular giving
Online giving
You can also make donations or set up regular giving online via Wonderful, Stewardship, CAF, Virgin Giving.
Wonderful is a new online giving site with 0% commission. Every penny you give comes to Myra's Wells.
Stewardship also charges 0% commission.

Direct giving
You can also CLICK HERE to download a PDF form to make regular monthly or one-off donations. Please print out, fill in and send to by post.
If you can help to provide clean water in Burkina Faso, 100% of your gift will be used for well construction GUARANTEED.
BANK TRANSFER:
Bank: Lloyds TSB, Victoria Road, Ferndown, Dorset, UK
Account name: Myra's Wells
Sort code: 30 93 25
Account number: 24159560
IBAN number: GB74 LOYD 3093 2524 1595 60
BIC number: LOYDGB21270
For overseas donors
The details you need are:
IBAN: GB74LOYD30932524159560 BIC: LOYDGB21270
Questions you need to have answered?
For more information call Eddie or Karen on 01202 892548
or email us at
Myra's Wells
72 Oakhurst Road
West Moors
Ferndown
Dorset
BH22 0DR
United Kingdom