Myra's Wells has drilled 3 more wells!
Good news has reached us from Africa. This week, Myra's Wells has drilled 3 more wells in Burkina Faso. These are in three villages with a combined population of about 12,000 people and over 8,000 head of livestock. This means that these people will now have access to clean water the whole year round. There are now 92 wells on the wells list.
The next step is the statutory water testing. As long as this proves satisfactory, we will fit the pump and build the surrounding wall. The completed wells will look like this one that we completed at Bassinko.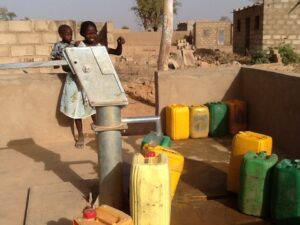 When these new wells are finished, we will try to obtain pictures of these three. In the meantime, here are brief details about the boreholes.
Sans Fil
Sans Fil is a village on the outskirts of the town of Fada. Fada is a major town, but the distance to the nearest existing source of clean water is 4 km. There is another open well. But this is in a bad state and has been unusable for 20 years.
The new borehole is 45 metres deep and has a flow of 7000 litres per hour. This is one of the best flow rates we have seen.
This map shows where Fada is ..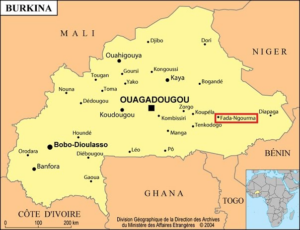 Kensoumbou
Kensoumbou is a village near to the arid Sahel area. The nearest pump was 7km away. The drilling process was hard and the borehole is quite deep – 73 metres. The water flow is just sufficient for Myra's Wells to accept – 800 litres per hour.
Potiamango
Potiamango is another village in the Fada area. Pastor Boureima helped save the life of a 5 year old girl here 4 years ago. Now the clean water will help to save many more lives. The nearest pump was 5 km away. After the rainy season, water could be collected from the river or an artesian well. But there will now be clean water all the time.
The borehole is 55 metres deep and has a good flow of 3,600 litres per hour.
What next?
Myra's Wells plans to drill more wells over the next few weeks. Can you help us to provide more clean water? Click here to see how to donate.
We continue to keep our promise that all money donated will be used for wells projects. We take nothing out for expenses of any kind. All overheads are paid personally by the trustees.