During the weekend, Myra's Wells has drilled two more wells in Burkina Faso!
The rain has just about stopped falling in Burkina Faso. It started at the end of May and this made travelling very difficult. There are a few good roads between the larger towns. But in the villages, the roads are just compacted mud. So taking a drilling rig to a village is not possible until the ground dries out. But we are happy to be able to report that Myra's Wells has drilled two more wells in Burkina Faso. The list of wells now shows 89 places where Myra's Wells has provided clean water.
Where are they?
Over the weekend, a surveyor and the drilling company were able to go to two villages. We haven't yet got pictures of the new wells. They will come soon. But one village is called Koukinkuilga and the other one is called Toukon. They are both about 15/20 km past the town of Koudougou, about 120 km west of Ouagadougou.
Koukinkuilga
Here is what Koukinkuilga looked like a few weeks ago. It was too wet to be able to get out of the minibus far enough to see the existing sources of water.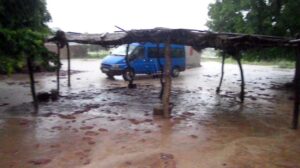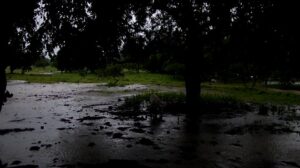 Toukon
And here is what the people in Toukon were using as their wells. This is the open well that the children at the school had to use. It is clear that 'Health and Safety' has not penetrated Burkina Faso.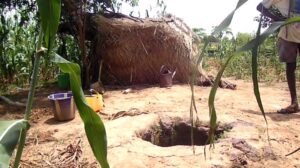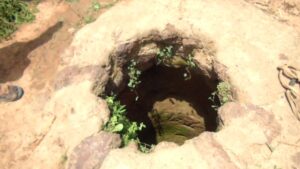 There was another well about 1 km away, but it is a very Heath Robinson affair and in a very poor state of repair.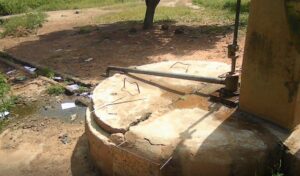 The weekend that has changed that!
This last weekend, 8th October 2017, the survey was good and the drilling found water deep underground. Now the people in these two villages can look forward to being able to drink clean water. The testing will take a few days and then the pump will be fitted. We should have pictures soon after that. But for the record, the well at Toukon is 79 metres deep and produces 3000 litres of water an hour. The one at Koukinkuilga is 61 metres deep and produces 2500 litres of water an hour.
We will post much fuller stories about these wells when we have all the details.
What next?
We are praying that during this drilling season we will be able to drill at least 20 wells in total. God has been very good to us in making provision for this. And our promise is that 100% of  the donations we receive are used directly to provide clean water. Myra's Wells trustees personally pay all other expenses. If you would like to help, click here to see how to make a donation.