If there is already a well there, why is more water needed?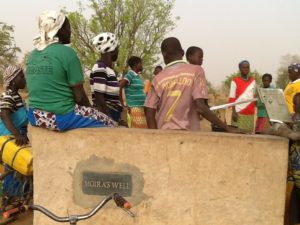 Back in December 2015, Myra's Wells drilled a well in a village called Bango in the Wadengo area near Bogande in Burkina Faso. A generous donor provided the funding for this well and, consequently, it bears a plaque naming it "Moira's Well". It provides a good supply of water for the people who live there. Even so, we found out that there was more water needed.
Visit to Bango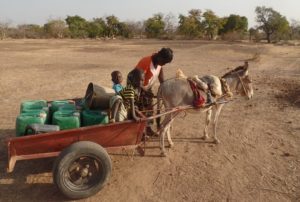 In April 2017, Christine and her husband Michel visited Bango. They went to see the pastor there and see how the well has helped the people. As they watched the people using the well, they were surprised to see some going past the well with a donkey cart full of empty water containers. Why didn't they stop at the well? There is enough water there for the whole village and everybody has free access to it.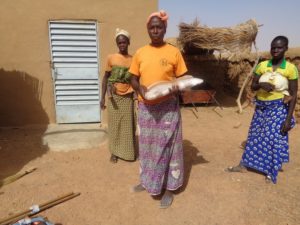 So they asked the pastor. He told them these people had come from the next village – called Kokin. Kokin is only about 1½ km (1 mile) from Bango. But often, the queue at Bango to use the pump was too long. So they would keep going to the next village along the track to use an open well where there is no queue. It seemed a tragedy that they had to walk past clean water to fetch water that would be dirty. There are about 1200 people living at Kokin and an estimated 1000 head of cattle.
So we received another request.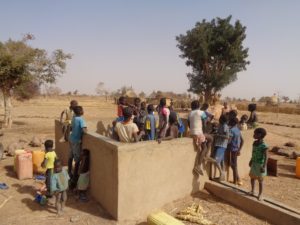 We asked Christine to make arrangements to drill in Kokin. Because of the rainy season, the drilling had to wait. After the rains stopped, the ground began to dry out and the lorries that transport the drilling equipment were able to reach the villages. So, in October 2017, the drilling team arrived on site and found water at a depth of 56 metres. The flow rate is 1000 litres per hour. This is one of three wells that Myra's Wells drilled in the villages around Bogande during October. It is well number 96 on the list of wells.
So now, Kokin has its own borehole and pump. No need to take the donkey cart past the well at Bango and go to an open well. You can imagine how happy this made the village.
This is how they showed their happiness.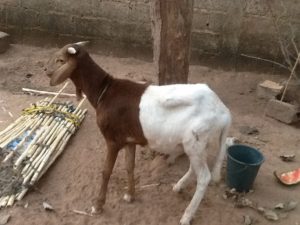 In December, the pastor from Bango – the one that Christine spoke to – went to Ouagadougou to give a report of his work in the Bango area. One of the young men from Kokin went with him to give Christine a present. What present could that be? Here it is, tethered in Christine's back yard.
And the village chief has also shown his gratitude by giving permission to the pastor to build a small church in Kokin.
But there are many other villages in Burkina Faso like Kokin.
There is still more water needed.
Myra's Wells is committed to passing all donations 100% to our contacts there to drill more wells. We will never use any money given to pay for our own expenses. Click here to read details of how to support this work.