We are delighted to be able to pass on more good news. Over the last two weeks, Myra's Wells has drilled more wells.  Another five more villages have new wells.  And these are in some of the more difficult areas of Burkina Faso.
These wells are towards the North East of the country. There is great need of water in these areas and it is sometimes difficult to find underground sources. So it is good news, indeed, to able to tell you about these five villages. We expect to have photos of soon. But, in the meantime these photos give an idea of why we are so pleased to have found water. And as we receive more detail, we will add more news items with stories from individual wells.
Weedou – near to the town of Dori in the Sahel region.
This picture gives an idea of what it is like in the villages here.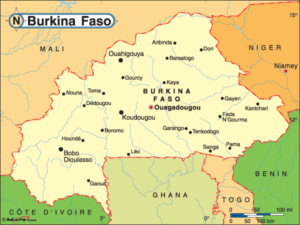 The new well is 50 metres deep. The water pressure is amazingly good – 5000 litres/hour. This is one of the best flow rates we have had. The Sahel is a very dry part of the world. So to have this flow is truly something we praise God for.
A village in Secteur 1 in Gorom Gorom department
The drilling located water at the first attempt at 73 metres. The flow is 750 litres/hour. This is the lowest flow rate we will accept, but it will give the village the clean water they desperately need.
Then three places in Gnangna region, close to the town of Bogande
This area is near to the border with Niger.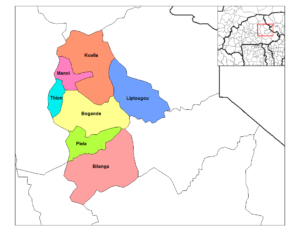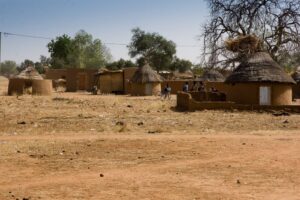 Wabaode
Here, the drilling found water at 50 metres and the flow rate is 2000 litres/hour. So, another very good rate of flow without having to drill too deeply.
Kokin
The drilling found water at 56 metres and the flow rate is 1000 litres/hour.
Mopinga
The drilling found water at 50 metres and the flow rate is 1200 litres/hour.
And we pray for more wells in the coming weeks
There are now 97 wells on the Wells List. Myra's Wells is a charity run by Christians. We praise God for these new wells. Our prayer is that we will be able to drill several more over the next few weeks.
We promise to use 100% of donations to drill wells. Nothing is taken out of donations for expenses of any kind which are not related directly to drilling wells. All other expenses are funded personally by trustees. To find details of how to make a donation and help us pressing on with the provision of clean water, please click here.