Why is it that everyone uses our well?
There was a well already at this village. At first, we could not justify the cost of drilling another well. But a generous donor decided that she would like to pay for it. Now, everyone uses our well. This is the story behind it.
Pastor Paul Kabore.
Pastor Paul had lived in Koukinkuilga since about 2007. During that time, he was not allowed to use the well that was in the village. The local people would not let him, even though it was very close to his house. So he had tried to dig a well himself. He needed the water for his family and to be able to grow vegetables. But he only managed to find a muddy trickle. One of his children died because he could not provide clean water for them. He had just four people in his church.
The visit in 2011.
Eddie and Karen visited Pastor Paul during their visit to Burkina Faso in 2011. He had told the village that they were coming to see him. But nobody believed him. So when they appeared in the village, it was an amazing sight to them. There were one or two people out at first, but when Eddie and Karen walked up to the forbidden well and had a drink, more people came out of their houses. It caused quite a stir. Perhaps Pastor Paul was not so mad as they thought. He really did have friends in the UK coming to see him.
Eddie had to make the heart wrenching decision to leave him without a well. But the cost could not be justified.
The visit in 2017.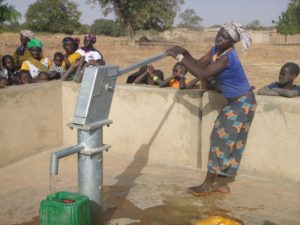 Eddie and Karen met Pastor Paul again, this time at a conference they went to. There were now 26 people in his church. They were beginning to see that he told them the truth.
When Karen arrived back, she wrote her diary which we had printed. And one of our faithful supporters read the account in the diary. She came to our trustees meeting and referred to the story. It was on page 26. She said she wanted to pay for a well.
So, in October 2017, the drilling team went to Koukinkuilga and found water at 61 metres. It is a good well. The flow rate is 2500 litres per hour. It is well number 89 on the full list of wells.
So why is it that everyone uses our well?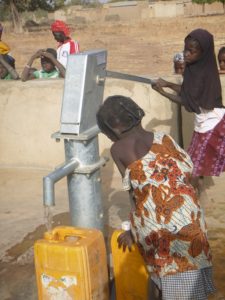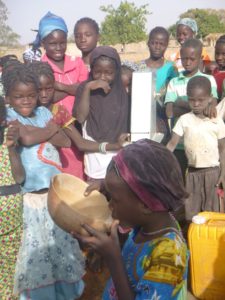 This is an extract from an email that Christine sent to us a while ago. "At Koukinkuilga a lady said that the water from this pump is special. All the village drink from here because the other pumps are too salty. But the water at this well is very good to drink." That is why everyone uses our well.
There are many other villages where water is needed.
If you want to help us to fulfil the need, please click here to see our "How to Donate" page. Myra's Wells is committed to guarantee that every penny will be used in wells projects because the trustees personally fund all other expenses.