Finding water is not guaranteed.
We have both disappointments and encouragements while trying to provide clean water for villages in Burkina Faso. We would be so pleased to be able to have success everywhere we try. But it does not always work out that way.
Disappointment at Debere.
Debere is a village of about 2000 people. It is near the town of Kaya, about 55 km north east of Ouagdougou.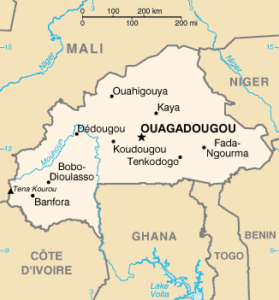 Many families have little to eat, especially as the harvest wasn't good last year. There is a well there, but only some of the people can use it because of ethnic disputes. So we decided to place another well there at a different end of the village. Myra's Wells' condition for doing this is always that there are no ethnic barriers to people using the wells we provide.
But it didn't work out. The survey looked promising. In fact, water was found at 74 metres, but there was not enough to make it a usable well. Drilling continued but the geology was not right. Even at 85 metres, the drill just found dust, not the rock that is needed. So we had to call a halt.
But encouragement at Yerganga.
And what encouragement. Just a day later, at Yerganga there was a wonderful success. This is a picture of a meeting that our representative, David, had with the village chief about 6 weeks ago.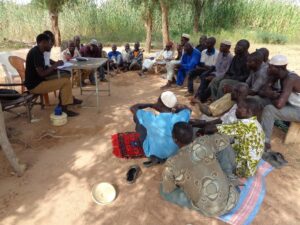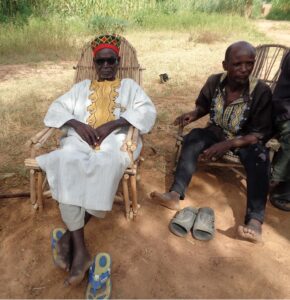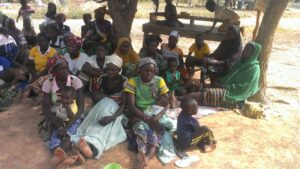 He is completing the information sheet which helps us to decide which villages to choose. There are 3000 people here. They used to get their water from this "lake" until it dries up each year in January.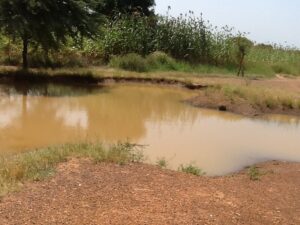 After that the people faced a 7 km walk to the nearest proper well. But, this last weekend, Myra's Wells has drilled a new borehole. And it has proved to be a real joy. The depth only needed to be 56 metres and the water pressure is 9000 litres/hour! That is about 13 times the minimum pressure we consider to be acceptable. We praise God for this wonderful provision. This is now well number 98 on the list of wells – click here to see the full list.
So there are disappointments and encouragements.
When we have photos of the new well, we will post another news item. But if you are moved to help us to provide more clean water in Burkina Faso, you can see how to donate by clicking here. And we promise that every penny you give will be used in well projects. We will not take anything out for other expenses – the trustees personally fund all these.