Clean water instead of dirty water
Kioura is a very spread out village in Burkina Faso. Many villages there are spread out. There are small clusters of houses which are perhaps 50 to 100 metres apart from each other. The ground is needed for the livestock.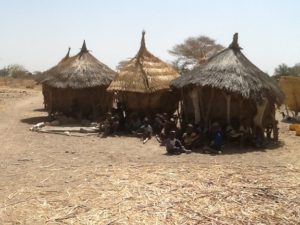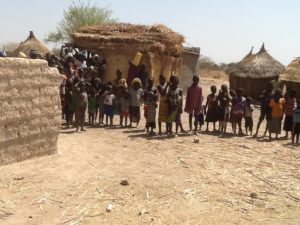 Many of the ladies had to walk from one end of the village to the other to fetch water from a pump. So they used the lake which is near the houses. This is not only dirty water – it dries up after the rainy season stops. They wanted to have clean water instead of dirty water to drink and cook with.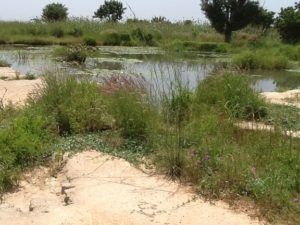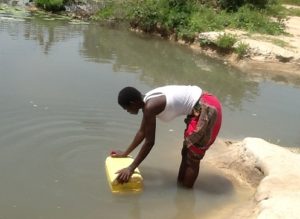 A pump too far away to use
The well they could use had an old type of pump and it was difficult to repair. So, as well as being 2 or 3 km away, there was no guarantee it would be working. This is why the people preferred to use the water from the lake. It filled up during the rainy season, but over the course of December into January, it dried up. And, of course, when the livestock is also using it, the water is always going to be dirty.
A pump they cannot use
Yes – there is another well in the village and it is closer to them. But it is at a school and the people are not allowed to use it. The teachers lock it because people using it used to disturb the children. And when they brought the animals to the well area, it made it dirty. So, we can understand why the teachers lock it.
Clean water near the people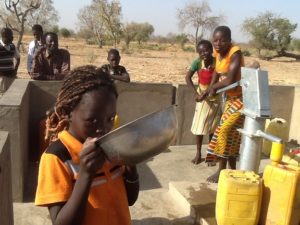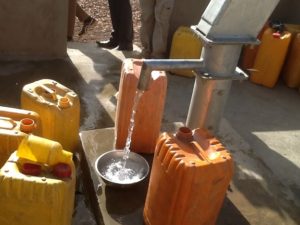 So it was, that, in January 2018, Myra's Wells sent a drilling team to the village. They found water. After the usual testing of water quality, another team arrived on site to fit the pump and build the surrounding wall and cattle drinking trough. This makes sure that the pump area is kept clean while allowing the livestock to drink water.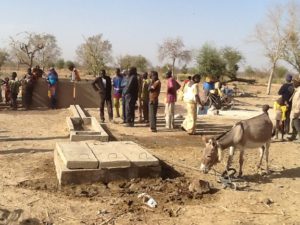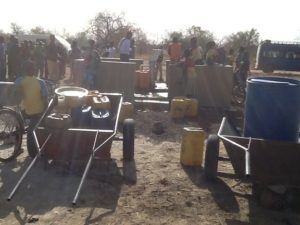 Some people will still have to walk up to 1 km to fetch the water. But that is better than 2 or 3 km. They often use bikes or donkey carts to carry the containers that they fill at the pump. And, even more importantly, it is clean water instead of dirty water. The village health will improve greatly. And the ladies will spend far less time fetching water.
This well number 106 on our list of wells – click here to see the full list.
People in villages here are so grateful
It makes us stop and think as we just turn a tap! We probably have at least 4 taps in our houses. These people are happy to have a well within 1 km of their houses. If you make a donation, we will use 100% of it to drill more wells. Our trustees fund all other expenses.