It must be so good for a village to be able to say, "Clean water at last!" The people may have waited for years. Then a surveyor turned up and found a good place to drill. The drilling team came a few days later. There was an anxious wait. Will they find water? In the goodness of God, most of the time this happens. Sometimes it takes two or three attempts.
Previous articles have talked about the process so far. Read about them on these links – Site selection; Surveying; and Drilling. However, there are still two more stages to complete.
Water testing
We can imagine how galling it would be! A nice new well, but dangerous water. That is always a possibility. So, we have to take a sample of the water to a laboratory in Ouagadougou – the technicians there then test it. They will issue a certificate to say that the water is safe. It is no use people saying "Clean water at last" only to discover that it is actually contaminated.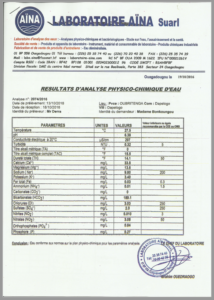 What can go wrong? Well, there might be contamination in the source that we have found. For instance, in Burkina Faso, there are deposits of arsenic. Not the sort of thing you want in drinking water! There was one occasion when we took water to be tested and had the bad news that it contained arsenic. Fortunately, it transpired that the arsenic was a tiny amount that had been disturbed in the rock while drilling. The laboratory suggested running some more water to clear the contamination. The retest came back with a clean bill of health. The water was good.
Fitting the pump and building the surrounding wall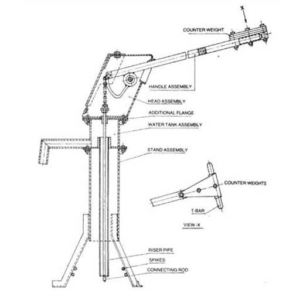 The last thing to do before declaring the pump "open" is to actually fit the pump. This is done by one of our trusted contractors. The mechanic is well qualified. The pump is a design known as India Mark 2 which is very reliable and is used in many locations worldwide. The mechanic sets everything up and tests it before he shows the people how to use it. Then he gives a lesson, to two or three people, about how to carry out routine maintenance. This is an easy task. The mechanic also leaves a small kit of spare parts in case they are needed.
And the final piece of work is the brick built surrounding wall. Why is this needed? Remember that water is needed by the livestock in the village. However, to have animals wandering around the pump area is very unhygienic. So, the pump installer builds a wall to stop the animals going to the pump.
Don't forget the animals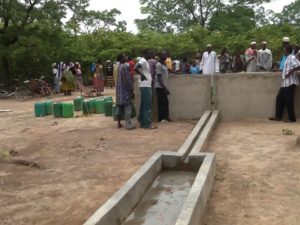 Mind you, we know they need water too. So, we don't forget them. A run-off is built to take water from the pump area to a drinking trough. It is amazing how quickly the local livestock find their way to the water. Perhaps they can smell it. However they find it, it is wonderful to see them sharing God's wonderful provision of safe water.
Clean water at last!
There is still training to come and a well blessing ceremony. Now the people are now able to enjoy their lovely new source of clean water. "Clean water at last"
This is a link to the full list of Myra's Wells's completed wells. We pray that we shall be able to add to this list shortly.