This is a reasonable question. After all, drilling a borehole is an expensive thing to do. If people have been kind enough to give Myra's Wells money, we want to make sure that it is used wisely. So, how do we assess whether water might be found? Well, before drilling a well, we ask a qualified surveyor to carry out a geophysical survey.
But what does this mean? We asked one of the surveyors to give us some details. He sent us a report. It contains words that we don't understand, but gives us some idea of what happens. This is what happened at a place called Rouko.
First stage before drilling a well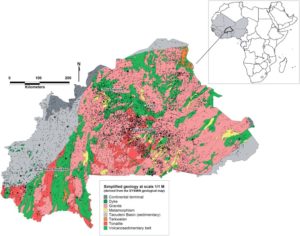 The internet is a great help. The surveyor is able to find satellite images of the area. These give him a good idea of the topology of the ground – where the hills and valleys are. In Burkina Faso, there don't seem to be many hills – but there are slopes and these will show up on these images. It shows where water will go and soak away. Our surveyor used terms like "morpho-structural" and "morpho-tectonic" in his report.
Then there are also geological maps available on the internet. These help establish exactly where, and how, the survey will be set up. This pictures is a "simplified" one of Burkina Faso.
Second stage
Then the site visit i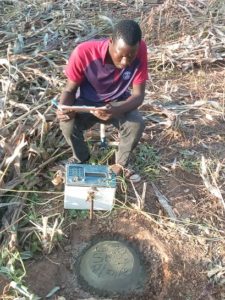 s arranged. For this, equipment is needed. At Rouko, the equipment consisted of a "Syscal Junior electric prospecting device" and all its "associated accessories". With this, a series of probes are used radiating out in different directions from a given point. The probes are inserted into the ground at regular intervals – in this case 10 metre intervals – and the Syscal device can then measure electrical resistance along the lines.
The result is a set of readings.
Don't ask us for the details, but it means it is time to do the calculations. There is software that takes the readings and produces a report. From this, the surveyor is able to make his recommendations. At Rouko, this is what he produced – remember that the lingua franca in Burkina Faso is French:

The two (or three) drilling spots are marked on the ground. The result is given to Christine. It gives her confidence before drilling a well.
The outcome at Rouko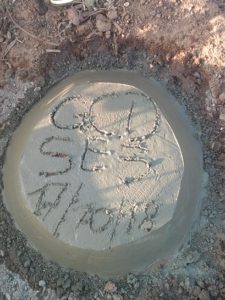 When the drilling team arrived, they wanted to drill at the first choice spot. But the man who owned the land decided that he would not allow that. The second choice spot was thought to be rather less likely to provide a good supply of water. But, God blessed. The borehole there produced water at 80 metres – and it is a good supply too. Rouko became well number 116 on the full list which can be viewed using this link.
What about water diviners?
Interestingly, Christine has, occasionally, asked a traditional water diviner to do a survey before drilling a well. His success rate is not very different from the geophysical surveyor!