Sadly, there have been a few places where we could not find water
At Myra's Wells, we are grateful to God that it hasn't happened very often that we could not find water. But it does happen. During our visit to Burkina Faso in January 2018, we went to a village called Jelgooji. It was Thursday 18th. We had made arrangements to take a drill there on the Saturday. But some of us were coming home before then, so we went to see the village on the Thursday.
Why we wanted to put a well there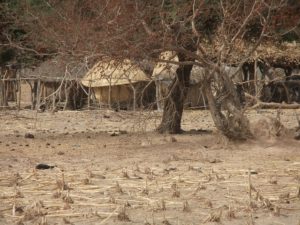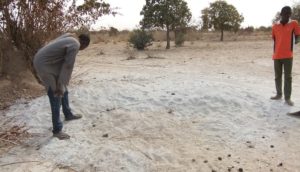 Jelgooji is a very dry place. In fact, we had already tried there, about 3 weeks earlier, but we could not find water then. The photo on the right shows the dust that was left from that attempt. When we got out of the minibus, the first thing we saw was a well. I wondered why we needed to try when there was a well there already. But it turned out that it was broken. Another charity had drilled the borehole in 2012. But it had stopped producing water two months after the pump was fitted. Now, it is completely broken. Water is difficult to find here!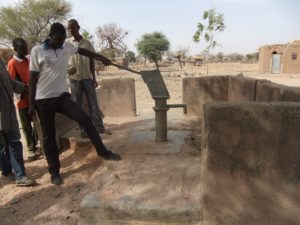 "X" marks the spot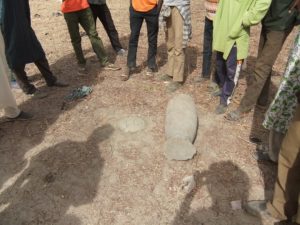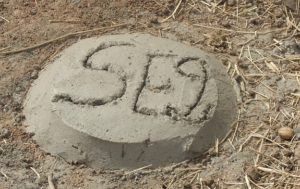 The villagers showed us two spots marked on the ground. These were the places where the surveyor advised us to try. We stood round them and prayed for a good result on the Saturday. Then we had to leave. Seeing villages like this, and meeting the people who live there first hand, makes a real impact. It is difficult to imagine how people survive in these conditions.
Saturday arrived ….
… and so did the drilling team. Many from the village came to watch the drilling.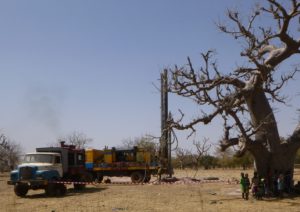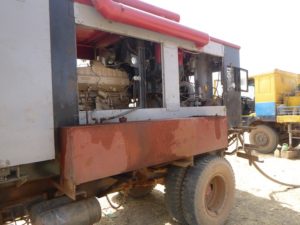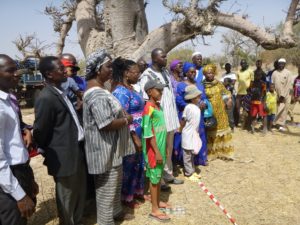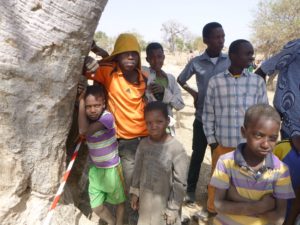 The team drilled a borehole at the first spot. But they could not find water. So they moved to the second spot. Sadly, once again, they could not find water. That means that four attempts have all failed to produce life-supporting clean water. The drilling team had to leave.
What next?
We haven't given up hope completely. We may ask another surveyor to go and take a look. Just recently, one of our contacts in Burkina has told us of another village quite close to Jelgooji. It may be that, if we looked at a different side of the village, we might be able to find a place where a borehole produces water in a place that would serve both villages. So we will prayerfully consider whether we should try again. We do hate having to say, "We could not find water".
As always, we guarantee that any donations will be used 100% for well projects. All other expenses and costs are paid personally by trustees. And all work is done by unpaid volunteers who we know. Click here to see our "How to Donate" page.