Why Myra's Wells' "Ebenezer well"?
This is the story of Myra's Wells' "Ebenezer well" .We knew that we were approaching the landmark of 100 wells in Burkina Faso. In 2006, Eddie raised money to drill one well. That was at the school in Zongo. At the time, he had no idea about what it would lead to. But as people continued to give him money for more wells, it became clear that God had something bigger in mind than one well.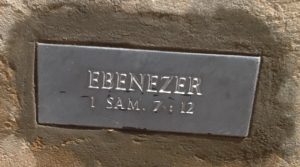 As number 100 appeared on the horizon, we thought about how to mark the occasion. John, one of our trustees, remembered what Samuel said after God had given Israel victory in battle. "Ebenezer". It is usually translated "Hitherto has the Lord helped us." This is how we felt. And we adopted the idea of calling the 100th well "Ebenezer".
Where would it be?
We planned the drilling program in autumn 2017. But we as we sometimes don't find water when we drill, we did not know which well would be number 100. It came down to the weekend of 16th and 17th of December 2017. There were 99 wells by then.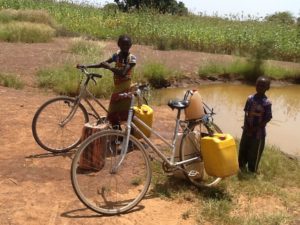 We had had a request for a well from the village of Tangseega. Christine had been to see the village and found out that there was a well and pump there. But that was not enough for the village and some were not allowed to use it. She saw some children coming back from the lake with water in their containers. They had been there to fetch water. It was bound to be dirty. So we agreed to drill a well at the other end of the village. The pastor from the town about 7 km away was also pleased. He was sure that it would help him to be able to build a small church there. We were very pleased when the drilling team struck water at 50 metres. It was very good supply. 4600 litres per hour.
So the village of Tangseega now has Myra's Wells' "Ebenezer well"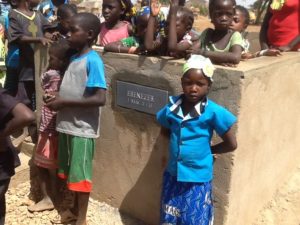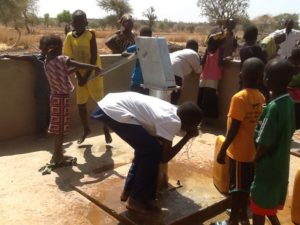 Here it is with the plaque in place. It is clearly being well used. The children, particularly, look to be enjoying the clean water. There are large numbers of livestock here, as in many villages. They will also enjoy the new supply of water.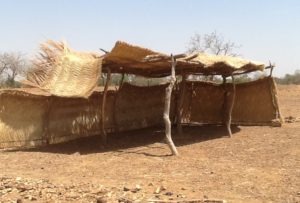 And the pastor has his church! It probably won't last long when the storms come in the summer. But they will soon rebuild it.
What will number 200 be called?
Will there even be 200 Myra's Wells? At the time of writing this news item, there are now 109 wells on the list. Click here to get the up to date list and number. As funds become available – we see this as God's provision – we will continue to drill wells. And we will continue to use all donations 100% for wells projects on the way to number 200.