The decision has been taken. There is another container being loaded to go to Burkina Faso. This will be the last one! No, really, it is the last one. We know that the last two, if not last three, were the "last" ones. But this one really will be. Unless …
What goes in the containers?

The quick answer is "Almost anything". This one will have two minibuses. The first one is already being packed with a vast array of things, all of which will be used in one way or another in Burkina Faso. Spot the step ladder!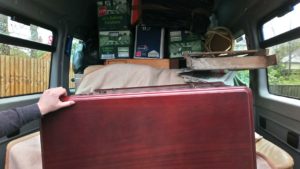 What is in it is just about everything from a house being vacated by a friend who is moving to be with family as he has a health problem. There are large items such as a sofa, chest of drawers, tables, chairs; then smaller items as well – cutlery, crockery, tools.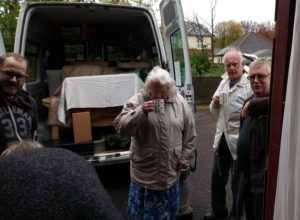 Here are the helpers hard at work, moving all the items from the container, where they were put temporarily, into the first minibus. This will be driven into the container as the next step. Then the second minibus will be packed with other things.
There is always room for fabric.
Bags of clothes are packed into the spaces. This time, we have been given a lot of haberdashery material – ideal for the training school that has been set up at Bogande.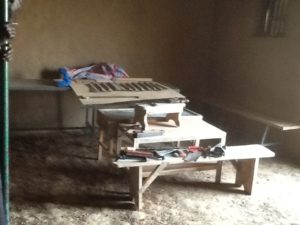 (Here is a picture of this school just received.)
Bedding is always welcomed – mattresses as well, even whole beds. So many people, particularly in the villages where we like to drill wells, just don't have these things. Local Education Authorities have also donated school furniture from schools which are being closed. We are amazed at what is given.
So why will this be the last contained being loaded?
Myra's Wells' primary objective is the drilling of wells – the clue is in the name! You can see the full list of wells we have drilled by clicking this link. So other projects have to be our second priority. Our absolute promise is that all donations are used to drill wells. The costs of any other projects are borne by the trustees.
And there are costs involved. We have to buy the container and pay the cost of the transporting it to Ouagadougou. The minibuses cost money. They usually come from the Local Education Authority – school minibuses which are being replaced – and they are very cheap, but the still cost money.
The trustees have to find the money to fund these costs. But with changing circumstances, the trustees will no longer be able to make the commitment to this.
Unless ..
Unless, that is, we were able to find another way of funding in the future. It would have to be a way of funding which does not detract from the wells funding as that is the absolute priority. People can live without a sofa, but not without water!