The need was obvious.
When Eddie Martin went to Burkina Faso in West Africa to visit Christine Bonkoungou, he had no idea that it would result in a charity which continues until now.  He was able to see a small Christian school run by Christine's husband Michel in a small village called Zongo. There was a desperate need for clean water in the village and at the school. Eddie came home and decided to raise enough money to drill the well – £4000 in those days. And so Zongo is where Myra's Wells started drilling wells in Burkina Faso in 2006. So did it help?
Most certainly! The original building had six classrooms. Now, with the water supply right where it is needed, there are two more large buildings. One of them is a two-storey block. The school now has over 500 pupils in the primary age range alone. The secondary block houses many more, up to the age of 20. But it is not just the school that has expanded. Attracted by the school and well, many people have moved to the area and the village of Zongo has grown hugely. Class sizes are now between 50 and 90! When they get to 100 in a class, the class is split.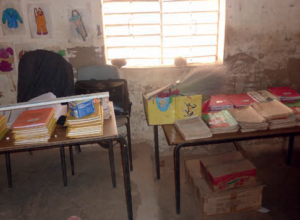 Toothbrushes!
10 years later, during their visit to Burkina Faso in January, Eddie and Karen went to see the school again. They had presents to give to the primary children – their first toothbrushes.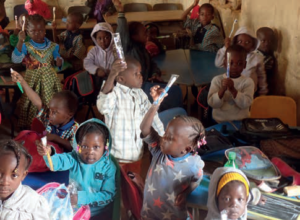 But Myra's Wells has also expanded ..
In 2006, Eddie thought that he was just providing one well. But God thought otherwise! Eddie was amazed to find that money continued to arrive. Instead of stopping at £4000, the total became £8000 and a second well was drilled. But it didn't stop there. After 5 years, 11 wells had been drilled. Myra's Wells was formally registered as a charity in 2011. And now, another 5 years further on, there are 82 wells.
And this is the well at Zongo where Myra's Wells started drilling wells in Burkina Faso in 2006. In 2017 it is still providing clean water to the school and village. Here it is, still proving its worth.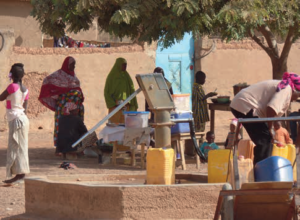 And the work continues 10 years on.
10 years on and Myra's Wells continues to drill wells. During this last week, 2 more wells have been drilled, with another 3 planned in the next few days. We will have to wait a few days to test the water quality. But then the surrounding walls and cattle drinking trough will be built and they will be ready for use. Here are two of the new sites before the new wells. They only have shallow open wells which dry up and become infected.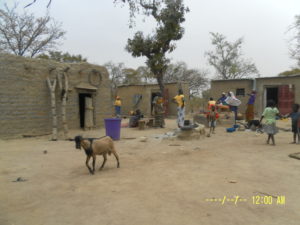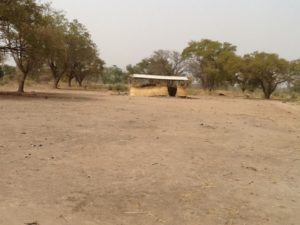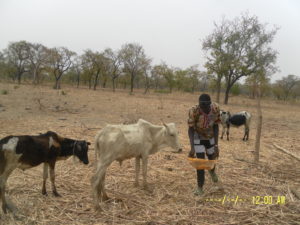 Very soon, the new wells will be operating giving reliable supplies of clean water for the people and their livestock. We hope to have more pictures to show then!
Our guarantee also continues.
We promise that all donations that we receive will be used in well building projects. Trustees personally fund all other expenses and costs.