Well number 82 drilled by Myra's Wells in Burkina Faso
Here are some details about well number 82 drilled by Myra's Wells in Burkina Faso. It is good to be able to report that this is now in operation and being 'well' used! The village is Kankamsse. Here are the children enjoying having water in the village.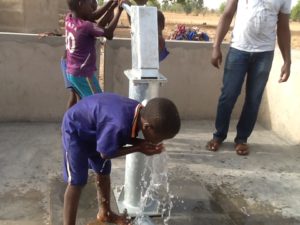 The adults seem equally pleased!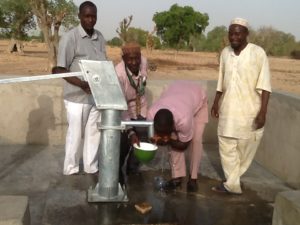 And, as with all the wells drilled by Myra's Wells, the livestock have their share of the water.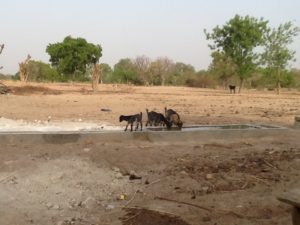 The last chance to have a positive outcome!
Here is Christine trying out the pump.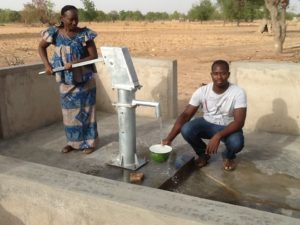 She makes most of the arrangements for the wells, including the contracts for the drilling. She is able to arrange for up to 3 attempts at each site to find water. All sites are surveyed, of course, and we will only drill when the survey indicates that there is a good chance that we will find water. But, even so, there are times when the borehole fails to produce water. But we are able to use the 'spare' attempts at different places. This is what happened this time. We had some disappointing results in the first choice sites. But the 'backup' attempts were moved to other sites.
On this occasion, we had just one more attempt left. It was a matter for prayer! And we had the answer we longed for at Kankammse. The borehole produced water at 54 metres with a flow of 1500 litres of water an hour. 700 more people in the immediate area are now enjoying clean water in their own village. But we expect that the well will be used by other villages close by as well.
Angela's well.
And the well will have a plaque on it – "Angela's Well" in recognition of the principle donor.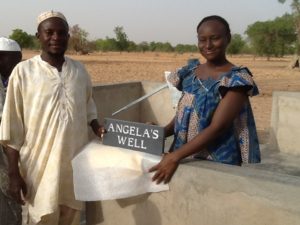 Who is this receiving the plaque? He is the Imam of the local mosque. Because the well has been drilled, no doubt he will hear about the well of living water of which Jesus spoke.
And here is the usual reminder – 100% of all donations will be used for well projects. The trustees personally meet all other expenses (including the cost of the plaque).