Why drill a well for water in Ouagadougou?
Good question! After all, there is mains water in Ouagadougou, isn't there? It is the capital of Burkina Faso! The answer is, "To an extent!" Yes, there is water in mains in some places (but it would have to be boiled before drinking it), but not everywhere. People need water in Ouagadougou – in the townships outside the city centre – just as much as people in isolated villages.
Yagma
One such area is called Yagma. It is a sprawling suburb. If there is any planning about its layout, it is hard to see. There are few, if any, properly defined "roads" – you just drive across the land and between the houses. It is an area where many thousands of people live, often in very close proximity with each other. With the coronavirus spreading in Burkina Faso, there is a real threat that Yagma will be badly affected. Myra's Wells drilled this well in Yagma two years ago. When we visited it in January 2020, we noted the queue had over 200 containers waiting to be filled.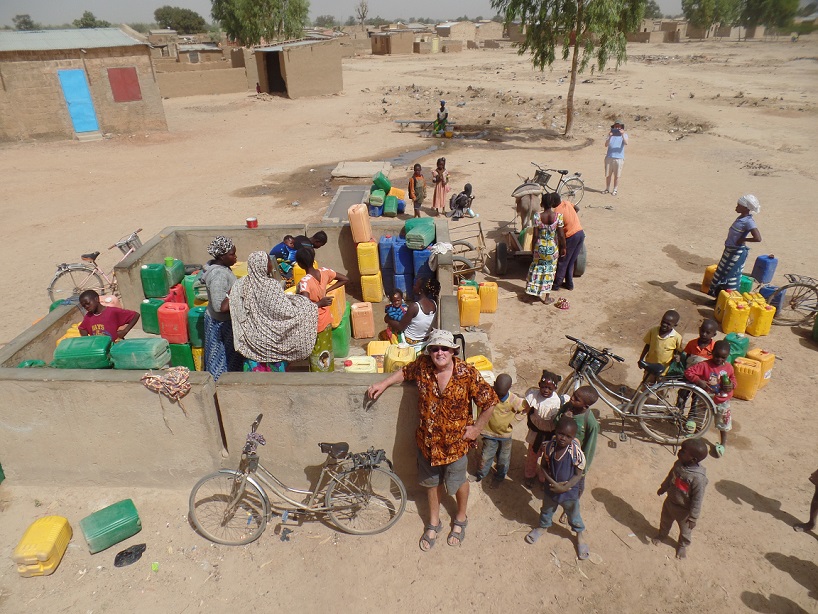 Your turn is between midnight and 2am!
In another district of Yagma – called Nabzingm – the water shortage is so acute that the residents were allocated a time slot for their turn to use the one tap available to the whole district. Some of the people were allocated their time slot – midnight to 2am! If they wanted to be able to drink, they needed to set a virtual alarm clock to make sure they got there in the night. Other people had other slots, also in the night.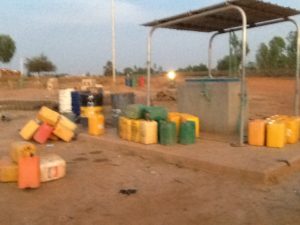 Our helpers visited the district – it was getting dark when they arrived, so the pictures are not very clear. It was about 6pm. People were already putting their containers in the line ready for the midnight slot. They were reserving their places in the queue for when they came back later. Here in the UK, we queue for a place on Centre Court at Wimbledon. Here in Burkina Faso, people queue over night for water in Ouagadougou.
Myra's Wells response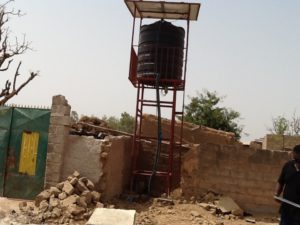 A Christian Trust Fund called Wilmslow Wells for Africa offered to pay for a well. We told them about Nabzingm and they readily agreed that we should use their gift for a well there. After the drilling team finished the borehole, we decided that we should provide a solar powered pump and a small water tower to supply a tap. The church near to the borehole has kindly provided the tower.
The tower and tap are now finished and these people no longer have to queue during the night to make sure they have water.
We notice that there is still a queue building up to use the tap! There is probably a need for even more boreholes here. However, at least people don't have to queue in the night now.
Water in Ouagadougou freely available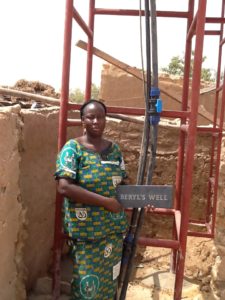 Yes, we are a Christian charity and Yes, the church near here has helped to provide the water tower. But that doesn't mean you have to be a member at the church to use the water. It is provided to show God's love to all. Whatever a person's ethnic or religious background, they are allowed to use the tap for their water. There is a management committee and they will ask for a small contribution from those using the water regularly – but this is only going to be used to help towards maintenance to ensure that the borehole continues to produce clean water.
There is still a need of more water in Ouagadougou
We will continue to provide clean water in Ouagadougou and elsewhere in Burkina Faso as long as God provides us with the funds to do so.