Simtenga is a small village in Burkina Faso in West Africa. It is typical of many small villages in Burkina Faso, even though it is not far from a town. Life can be very hard here. Myra's Wells has recently made it a little easier.
You won't have to look too hard to spot the difference that has been made at Simtenga!
How it used to be
In villages like this, water can be a major problem. Simtenga was no different! These pictures show the open well, 2 km from where most of the people live. It is here that they had to come to fetch water.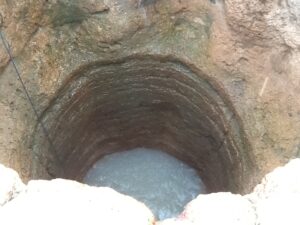 As you can imagine, the water from this well is dirty. For the privilege of having dirty water, the ladies (it is always the ladies) had to risk their lives by standing on the narrow wall which surrounds the well. It must be very slippery when it gets wet. Imagine standing there and looking down into the murky water.
Now imagine drinking the water, cooking with it and washing in it – washing yourself and your clothes.
Was there no other way of obtaining water?
If the ladies had 3 or 4 hours to spare, they were able to walk to a school 3 km away and use the pump there. However, as with so many pumps at schools, it was locked while school was in progress. Even when they could use it, they might have to wait for 2 hours for their turn. Hence, 3 or 4 hours to fetch water, probably twice a day. The open well was easier.
Help is on its way
One day, one of the Myra's Wells volunteers arrived with a piece of paper in his hand. Some of the people sat with him as he went through the questions that we always ask about the circumstances at the villages. We don't have unlimited funds, so we have to try to choose the most needy places to be first on our list for wells.
We decided Simtenga was near the top of the list. Christine made the arrangements and, this October, a drill arrived in the village. God blessed the drilling. After about 6 hours, the drill struck water – sustainable enough to supply 3000 litres per hour.
Spot the difference now!
So, here is the new well. Spot the difference! The photographer took this picture just before the evening rush started. It is difficult to get children (or even adults) to smile in Burkina Faso. However, we know that having clean water makes them very happy. Not only is it clean water, it is quicker – and safer – to fill the containers at the pump.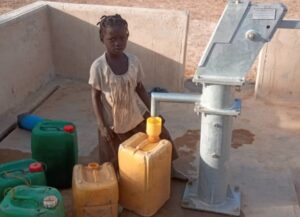 Simtenga is well number 181 on our full list of wells. As a Christian charity, we give praise to God for His blessing enabling us to help so many people. We guarantee that we will use all donations 100% for well projects in Burkina Faso. Trustees pay all other expenses personally.