10 Villages without proper access to clean water! But now one well drilled by Myra's Wells serves 10 villages in Burkina Faso.
So many people with only unreliable sources of water. It was better in the rainy season. But then water sources dried up. People ended up drinking dirty water collected from where they could find it. Evangelist Keith Smith saw the need. He worked with all the village chiefs to help them have a year round source of clean water. So Keith made a request for a well in the middle of all the villages.  And we readily agreed to pay for it. This is why one well drilled by Myra's Wells serves 10 villages in Burkina Faso. These villages are situated in Ganzourgou Province.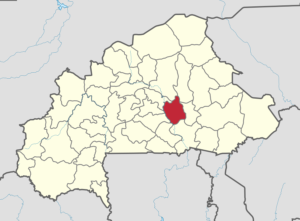 Myra's Wells founder sees the result ..
During January, Eddie and Karen Martin visited the main village – Bendogo. It was a long journey, some of it on dirt tracks. But the reception they received made it well worth the discomfort of the bumpy tracks. They speak of the obvious joy of the people as they now have easier access to clean water. The well is a short walk away from each village, but that is far better than it was before. The joy of having one well between 10 villages puts us to shame when we think of how many taps with have in our homes.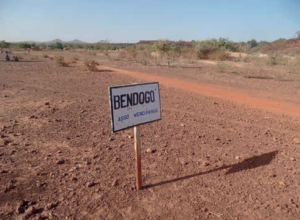 A well paid for in memory of a sister.
The well has been named "Gwen's Well". This is in memory of the sister of Rosemary from Bethel Chapel in Verwood. The plaque is fixed on the well surround which keeps out the animals to keep the water clean. These pictures show the local people using the well.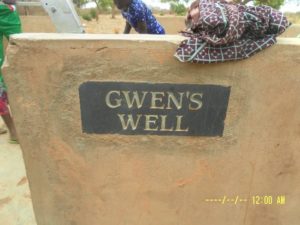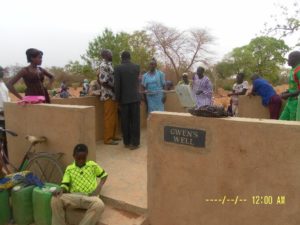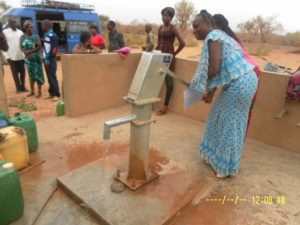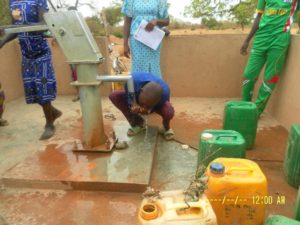 Here is what drives us to continue drilling wells.
After a well is completed, a 'Well blessing' service held. Christine, who makes most of the arrangements for us in Burkina Faso, has sent us pictures of the villagers listening to the message of God's love. It is this love towards us that makes us so committed to helping the people of Burkina Faso to have clean water.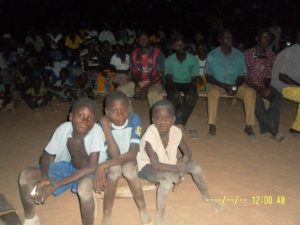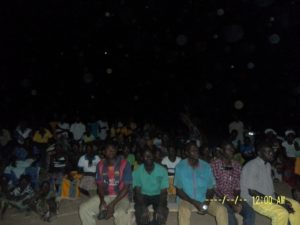 And here is an example of the health benefits.
Christine introduced Eddie and Karen to Pastor Timothy. His wife had had health problems last year. From June to October, she was unable to stand on her feet. But when they started to have the clean water from the well, her condition improved very much. It begs the question. How many other people are there in this world who are suffering with water born viruses? Millions only have dirty water. We would love to help many more of them in Burkina Faso.
Can you help
us?
And w
e guarantee that gifts made to Myra's Wells will be used 100% for well projects. Nothing will be taken out for expenses, marketing, overheads, plaques, agents or anything else. The contact details are at the bottom of the page if you would like more information – or send us an email using this link
info@myraswells.org
.