The rains have stopped. They lasted longer than usual this year. But now the ground is dry enough to move the drilling equipment, and there are four new Myra's Wells in Burkina Faso. We have added them to the full list which now has 119 wells on it – click here to see all the villages.
News arrived yesterday – 29/10/2018
We waited prayerfully throughout October for news. It came yesterday when an email appeared in our inbox. It had the simple heading "New Wells". And then today, we had another email – another well has been drilled just today. Even after finishing with 115 wells on our list last June, we never stop being thrilled to hear of more clean water being provided for some of the poorest people in Africa.
Rouko
Rouko is a small town rather than a village, but people in one area of the town found it difficult to get water. There is a pump in the middle of the town, but the population is large and it does not provide enough water for everyone. In addition, there are large numbers of livestock.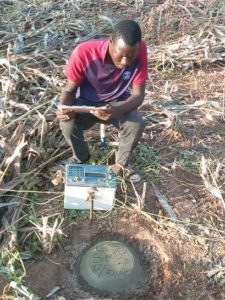 This picture shows our surveyor carrying out the survey before drilling started. The recommended drilling points are marked on the ground.
When the drilling team arrived and wanted to drill at the first choice spot. The man who owned the land there decided he would not allow drilling. But the second choice spot proved to be a good place to drill. Water was found at 80 metres and the flow rate is 4500 litres/hour.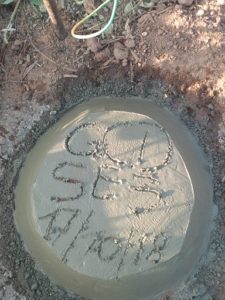 Banamba, Loukar and Koumboura

These three villages are in the south of the country. There are marshes here. So, in many of the villages in this area, the way of obtaining water is to go to the marshy land, dig a hole and wait for it to fill up with water. It is difficult for us to imagine.
Now, at all three of these places, there is a new borehole. After the usual water testing, a pump will be fitted and the people will have clean water. At Loukar, there was so much mud that the first attempt to drill failed. But the second attempt was successful.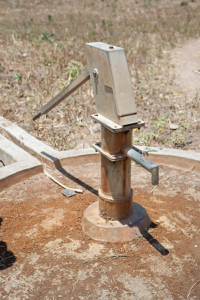 The borehole at Banamba is 60 metres deep and will support 7200 litres per hour – 10 times what can realistically be drawn using a hand pump.
At Loukar, the depth is also 60 metres. The flow rate is 1000 litres per hour. Not as much as at Banamba, but still perfectly adequate.
Then at Koumboura the depth is 65 metres and the flow rate is 3000 litres per hour.
So those are the four new Myra's Wells
Four new Myra's Wells in Burkina Faso means that there are four less villages where water is a severe problem. It still means that the people there will have to go a pump to fetch water, but at least it is near to them, readily available and CLEAN. We hope to have photos of these wells when the pumps have been fitted.
But there are still many other villages in need of proper wells – deep boreholes and a pump. As money is available, we will continue to provide water for these people. If you want to help us, please see our "How to Donate" page. We promise that every penny we receive will be used wisely to drill wells.