For each well drilled, Myra's Wells drilling report shows clean water in Burkina Faso.
How are we able to know that each borehole drilled by Myra's Wells in Burkina Faso has produced good clean water? After all, when it is going be used by so many people, it needs to be clean and reliable. For instance at this school Wakkil Alla School
First, we have to be sure that the site should produce water. Christine is our main contact in Burkina Faso and she is hard to please. When a well is requested, she will arrange a full geophysical survey. Christine knows local surveyors who have a good track record and a borehole will only be sunk if the surveyor is confident of finding water.
Secondly, the contract with the drilling company will allow for multiple attempts to to find water. It can be tricky. Two boreholes, a few metres apart can produce different results. So if the first attempt fails, it is important that we are able to try again.
Is it deep enough?
It is not enough to be satisfied just by finding water. Christine needs to be satisfied that the borehole is deep enough. If not, then, when the water levels drop, the well will appear to dry up. So there are times when Christine will insist that the driller carries on until a more sustainable source is found.
But is the supply strong enough?
We might have a deep enough borehole. But if the water flow is not high enough, this is still no use. Christine is able to measure the flow – litres per hour. And sometimes, she will insist that the driller start all over again because the rate of flow might be better a few metres away. And often, the persistence pays off. With a good rate of flow, a water tower is possible and that enables a constant water pressure to be delivered.
And then we will have a report like this one to show the technical details: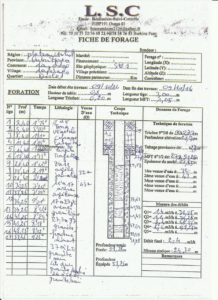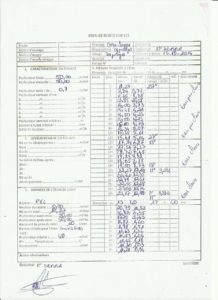 But that is still not enough ..
There are the statutory tests that need to be carried out. Is the water good quality – safe to drink? Samples are taken to Ouagadougou and analysed. We get a report like this one: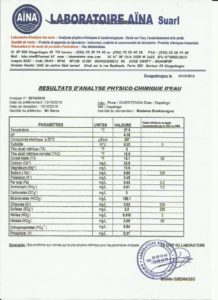 It is only after everything is checked that Christine will have the pump and surrounds installed. We said she was hard to please!