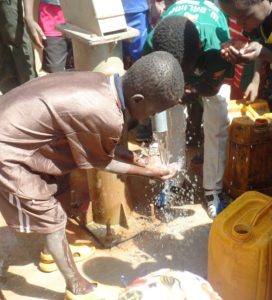 It is difficult for us to imagine. In many villages in Burkina Faso, life has been hard from birth. People who have never had clean water don't know what it is like to have it available. So, when Myra's Wells drills a well, the people don't always know how to use it properly. That's why our helpers give them lessons in how to use clean water.
Ladies' meeting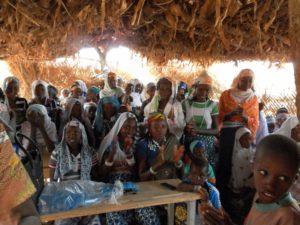 And, that is why this ladies' meeting is happening. It is shortly after the new pump has been fitted and the ladies are meeting to hear our adviser giving them some instructions. These are some of things they are told. The meeting is with the ladies because, invariably, it will be the ladies who use the pump.
Keep the pump and the pump area clean!
This is essential! And, in general, the people will understand that. It is why we build a surrounding wall so that the livestock will not be able to come into the pump area. But sometimes, we have found that the pump area is not always kept as clean and tidy as it should be. So, we emphasize that they must not leave litter there (it is very sad to see much of the countryside littered with plastic bags!); they must wash the area down from time to time; keep it clean!
Keep yourselves clean!
When the only source of water you have had is a muddy river, some people have never known what it is to be able to wash and keep themselves clean. We tell them how washing will help them to stay more healthy.
Keep your children clean!
Some children have never been washed properly since birth. So, we make sure that the children know how to wash properly.
Keep your clothes clean!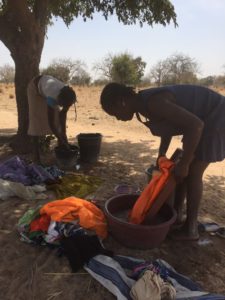 Remember, again, that if the only place to wash your clothes is a dirty pond, they may well come out dirtier than they went in. Persil and Ariel are not available in the villages. But having clean water helps a lot.
Keep the drinking trough clean!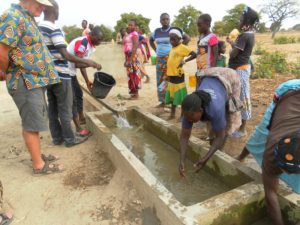 The cattle are much more able to cope with dirty water than humans. But they are much healthier when there is clean water. So, cleaning out the drinking trough regularly is a job that someone has to do. The Chef de la Pompe will make sure that it is done.
Keep your crops healthy!
In one place where we have recently put a pump, the people were using contaminated water to water their crops. This means the contamination was getting into the food chain. Now there is clean water in abundance. So, using it to water crops means better food for the people.
The pump is not a play area!
In one place, we discovered that the pump handle was broken. The children had been playing there. It is easy to mend this. But we emphasise that the parents must not let the children play with the pump.
Use clean water
The clean water from the pump is available for all these purposes, for all the people. And because we ensure that the flow rate is sustainable, we know that there will always be enough water for.