Safe arrival
We are pleased to say that the container of school equipment and other items has arrived safely in Ouagadougou. This was funded separately from the well drilling project – paid for by trustees personally. The first picture shows it still in the car park at Charminster Chapel, just before the final items were loaded. Local evangelist Stephen Gillham is shown with Karen Martin, Eddie's wife. Stephen was there to see the 6 tons of Children's Bible lessons in French being loaded. (You can see the boxes packed in, and under, the minibus.)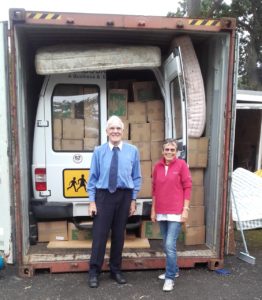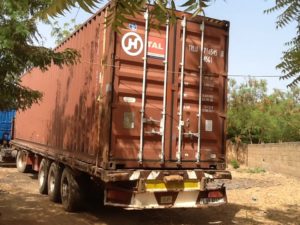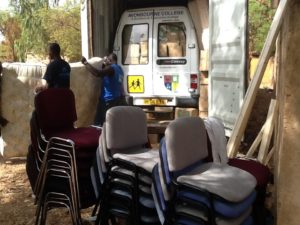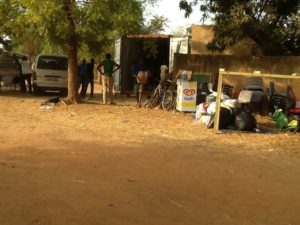 Huge contents
Also in the container, there were some chairs and Blackberry phones donated by Cross Country Trains, Eddie's employer. There were two minibuses and desks donated by Dorset County Council from schools that have been closed, spare engines, settees, chairs, bikes, mattresses, gas cookers and many other things. These will all be put to good use either in schools and chapels. When everything was loaded, Eddie had to make special arrangements for the journey to Tilbury as the total weight was over the normal limit.
The route was then by sea to Ivory Coast and by rail to Burkina Faso. Delivery to Ouagadougou was delayed because of damage to the railway line from Ivory Coast to Burkina Faso. But, in answer to prayer, it has now arrived in time for Eddie's visit. The rest of the pictures show its arrival, opening and unpacking.
Many people contributed to sending all this equipment, either by donating/sourcing the contents, or in helping Eddie to load it. A big thank you to all.
And a reminder that all the money donated to Myra's Wells goes to digging wells and maintaining wells in Burkina Faso. All other expenses are paid by the trustees.