Christmas at Myra's Wells
While we were enjoying turkey, stuffing and Christmas pudding, what was happening in Burkina Faso? Christmas at Myra's Wells in Burkina Faso means more drilling! This is a diary of the last few days.
22/12/2018
Riyalo is west of Ouagadougou. The people here have a choice of where to go for water. There is a proper well 5 kilometres away, as long as you don't mind waiting up to an hour when you get there. So a round trip could take up to 3½ hours. If that is too much, then you have a large open well 4 kilometres away. So the round trip could be as little as 2 hours – but the water will probably be dirty. So you can take your pick.
On 22/12/2018, the drilling team arrived and drilled down to 99 metres. How disappointing to hear that they were not able to find water. Please pray was we prepare for a second attempt in due course.
23/12/2018
Sapala is about 175 kilometres from Ouagadougou. There is a pump in the village, but it does not provide enough water for everyone. So it turns out to be quicker to walk to another pump in another village. Either way, it can take up to 4 hours just to get water.
On 23/12/2018, Myra's Wells drilling contractors came to the village. We are able to praise the Lord that they found water at 73 metres. The flow rate is 700 litres/hour. This is the minimum that we will accept as a positive well. But it means that there is now another sustainable source of water in the village.
24/12/2018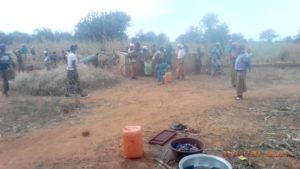 Christmas Eve. No time to wrap the presents. We are off to YilYaale. We have heard the story many times. There is an open well 3 kilometres away, again with dirty water. The nearest proper well has long waiting times. We have seen a video clip showing the queue at this well growing by the minute. There is no question that a new well was needed. The pictures we have are low resolution, but they illustrate the problem.
The drilling contractors arrived and started drilling. And about 5 hours later, after 51 metres of drilling, there was a flow rate of 3500 litres/hour. Immense joy. But this is just Christmas Eve …
25/12/2018
Christmas Day! "Joy to the world, the Lord has come". Let's not forget that we celebrate the coming of the Saviour. This was not forgotten in Burkina Faso, but there is still work to be done. Petit Samba is the destination. Some of the peope can only look longingly at the pump 1 kilometre away. They are not allowed to use it. Instead, they have to go to the river for their water.
The driling team again had success. 78 metres deep and the flow rate is 1000 litres/hour. This the best Christmas present the people at Petit Samba could have. No need to wrap it up – it would take too much wrapping paper.
26/12//2018
Well, the drillers need a day off!
27/12/2018
Off to Wabo. Nearest water – a proper well 4 kilometres away with waiting times up to 2 hours. There is another one 5 kilometres away and marshes 6 kilometres away. We badly want to find water.
Imagine the disappointment when the drilling reached 90 metres with no sign of water. Please pray as we ask another surveyor to go there before we attempt another borehole.
BUT – there was joy at Sissamba. The drillers tried here and we heard the next day that they had found water. 4000 litres/hour at 61 metres. This is a very good well!
29/12/2018
More joy! The second attempt at Riyalo found water at 70 metres. the flow rate is 1800 litres/hour
So
We rejoice in 5 good wells and continue to pray about the one where water has yet to be found. There are now 135 wells on the full wells list – click here to see it.