Following on from the previous news item, this is the next episode in the drilling story …
Tuesday 26th January
About 9pm UK time, we received a WhatsApp message from Christine. It simply said:

This was a real joy to us. Three of the trustees had visited this suburb of Gaoua in January 2020. The previous evening we had been staying in a "guest house" in the town and had the privilege of running water in taps fed by a pump. The next morning, we drove, no more than 2 miles, to visit Bakonon. We passed a large school with running water, crossed a dried up marshy area and into the suburb of Bakonon. It was like entering a different world. This is the open well they were using.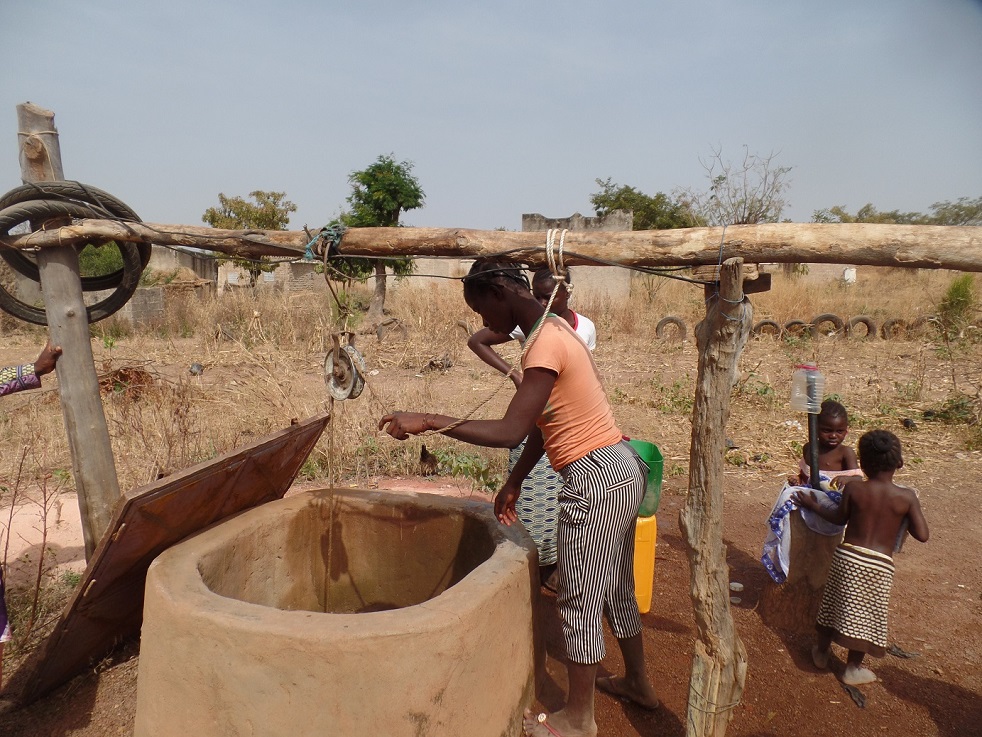 Sometimes, they had had to make do with fetching water from the marshes – until they just dried up completely.
Soon, they will have the use of a pump dispensing clean water.
Wednesday 27th January
We were not sure of the plans for the four other sites in this area and had to wait for an email the next day for news. When it came, this is what we found out.
The drillers had gone to another suburb of Gaoua which is known as Quartier Planteur. This quartier is even closer to the centre of Gaoua, but the conditions there are, if anything, worse than Bakonon. We had these pictures of people scrabbling in the marshes for water.
The drilling had reached 75 metres but there was proving to be too much mud. They needed a different drill – one fitted with a mud pump. There wasn't one available at the time, but when there is, Christine will arrange for that to go there. Please pray that God will bless with a good borehole in due course.
The drillers set off for the next village – Kora. We have shown pictures of this village in previous posts. Together with the nearby village, Kamelekogodougou, these were perhaps the worst places we have seen. That was certainly the opinion of the surveyor when he went to do the survey about two weeks before.
Thursday 28th January
An email arrived mid-morning. Christine had heard from the drillers. They were about 3 km away from Kora, but they were stuck as there was no "road" of any description. To most places, there is at least a dirt track, but not to Kora. The drillers were fed up and wanted to turn round and go back to Gaoua. The village people had said that they would come and cut down trees, but Christine was not sure that the drillers wanted to wait for them. This was a clear matter for prayer!
The rest of the day passed without further news
Friday 29th January
We didn't have long to wait for news today. At 10:41, an email arrived. The message was simple –
We have a new well at Kora, depth 65.55 m with 2,000 litres per hour
Later in the day, another of the Burkina Trustees, Juliette, summed it up:
Glory must be given to God.
It was just before 8pm that a further WhatsApp message appeared:

Nobody is sure how these village names should be spellt! However we spell them though, both these desperate places will soon now have pumps giving out clean water.
Please pray that this will be a real testimony to our great God and His great love to all people. Christine immediately said she wants to go there and have a well blessing service at which the Gospel will be preached. It is a long way to go – it will take all day to get there.
What happened next?
There will be a news post about this very soon! Look again in a few day's time.