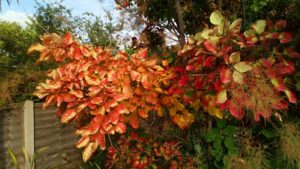 Dear Friends
Welcome to the Autumn newsletter from Myra's Wells. We would like to bring you up to date with stories from Burkina Faso.
Plans to drill 12 more wells before Christmas
Only 60 to go!

And there may be more. 12 would reduce the number on our "waiting list" to only 60! So as funds allow, we will endeavour to drill more over the coming season. By the time that the season finishes, we are sure that there will have been more added to the list. We have made contact with more evangelists over the past few months and they will all be asking for help with wells.
Weather in Burkina Faso
While we have had the driest summer for many years (and the hottest since records began in England), it has been raining in Burkina Faso. Christine has said that the rain this year has been good. Last year, this was not the case. She asks for prayer that the rain will continue until the end of September.
And, while it is raining, it is very difficult to reach the villages with the drilling equipment. So, we want to take this opportunity to relate some stories about places where we have drilled over the last year.
Update on Djibo – picking up the story from the last newsletter
We were still trying to drill at Djibo when we sent the last newsletter. A new quarter has been built there. Although there are wells in other quarters, these are 3 or 4 kilometres from the new area. In addition, one of the pumps sometimes dries up.
The first attempt
The first borehole reached 95 metres without finding water. The surveyor had identified another potential place and needed to know whether the drilling team should try there. He contacted Christine and she contacted us. Email makes quick communication possible, even from Burkina Faso. Djibo is about 200 kilometres from Ouagadougou and, having got the drill there in the rainy season, we thought another attempt was the best plan. So, we quickly decided that we should try one more time, even though the surveyor had said that water was less likely at the second spot.
The second Attempt
Sadly, this borehole also failed to find water. So, we reluctantly had to decide to leave without being able to help the people there. Some areas are like this. But we must keep on trying in difficult places because, sometimes, God really blesses with unexpectedly good wells.
It meant that we finished the drilling season with 115 wells on the wells list – 28 of these in the last season. Click here for the full list.
Yambassi – a story of blessing, then disappointment – then more blessing
First the blessing.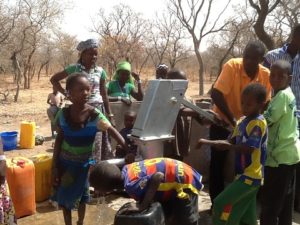 The full story of the blessing is already on the web site – you can read it using this link. The well was drilled on 19th December 2017. At 56 metres, with a flow of 5000 litres per hour, this was a good well indeed.
Then the disappointment.
In April this year, Christine heard from the pastor there. The Fulani people for whom this well was provided, had been told, by the village chief, that they had to leave. Some other people were going to be given the land, which would include the pump and the land that had been promised for a church building. To say that we were upset is rather an understatement. But we took it to the Lord in prayer, as the old hymn reminds us that we should do.
Another of our contacts in Burkina Faso, Boureima Diallo, was the main contact for this well. He had arranged for a church planter to work in the village. (You can read more about Boureima's work using this link.) There had been opposition to the small church there for some time. The Imam had warned people not to go to the church. Boureima had met the Imam on previous occasions. On one of these occasions, Boureima also met the Imam's son – who he had said he wanted to be a pilot when he grew up – but there is no school at Yambassi, so there would be no chance of that happening.
Now the "More blessing"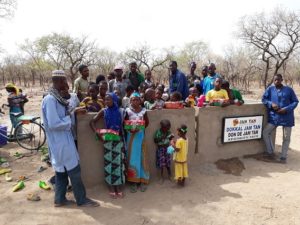 Boureima arranged to go and see the chief. The meeting was held with the Governor of the region and the High Commissioner of the province being there as well. We don't know the detail of the discussion. All we do know is that the chief changed his mind. The people could stay where they were. The land was given back so that the church building could be put up. In fact, the amount of land was increased.
But there was more to come. Boureima offered to build a Christian school in the village and immediately had 53 very young children on the school roll. At the time, he had no funding for the school, but he recently received a cheque in the post for the full amount needed to put up the usual design of three classrooms.
The Lord has really blessed
Likinkelse – "We hope you can get water for us"
The challenge
This village has a very familiar story attached to it. Again, it is a large village. Again, it already has two or three pumps. But people were having to queue for hours to take their turns at the pump. The pastor there had been asking the authorities for a well for 20 years! One day, the village chief said to him, "You Christians – all the village is watching you. We hope you can get water for us." Some of the ladies had said, "You keep going to Ouagadougou, but nothing happens."
The outcome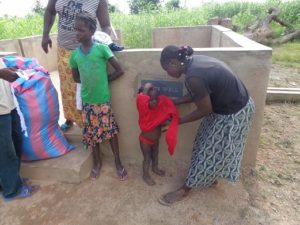 Well, that changed on about 15th May this year. The drilling team arrived and started drilling. On the first attempt, water started to emerge at 89 metres deep and after another 6 metres, a good flow of 2700 litres per hour was found. This is a deep well. It costs a bit more than wells that are 50 metres deep because it needs extra casing and a more heavy duty pump. But it is worth the extra! This well has a plaque on it – "Meg's Well" as it has been paid for by a generous donor.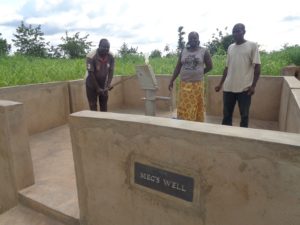 So, the people have their water. The pastor's credibility has been enhanced. And, most importantly, to quote Christine, "this well will lift up the name of Jesus at this village". Christine also said, "I thank God for this because it is a very hard place to get water but God has provide one for us."
Gorom-Gorom story – a well at the place of prayer
A difficult place to find water
Last year we were able to drill some wells in the north of Burkina Faso. This is a difficult area. It is very dry and drilling is not always successful. But there was one place, near Gorom Gorom in the most northerly province, where we wanted to try. The area is called "The Sahel" – it reflects the fact that this is the southern edge of the Sahara area. There was already a church planter working there with a small number of Christians among a Muslim population.
Praying
The Christians met together in the church planter's courtyard to pray for successful drilling. And the place where the surveyor identified as the best place was just where they were praying. So, they continued to pray while the drilling went on. This must have been difficult as the drill is very noisy. But their prayers were answered with a "Yes" when water was found at 72 metres. The flow was 750 litres/hour. This is near to the lower end of an acceptable flow rate. But in the Sahel, any well is a good well.
The result is that the pump is in the church planter's garden! Our rule is that anybody is allowed to use the well. So, he has to be up at 4:30 am to open it for use. He has to close it at 10:00 pm so that he will be able to have some sleep! But the fact that water was found has made him very respected and has been a real help as he talks to the people there about the Lord Jesus.
Containers
The previous "last" container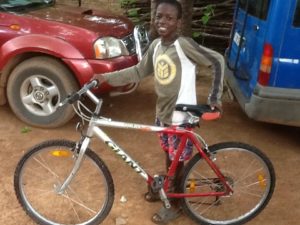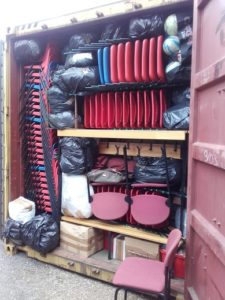 The "final" container which was sent in June has arrived. The goods have been distributed to needy people in a number of places. We have just received pictures of a delivery made recently to Toeg Yamba. We drilled a well there in February. Here is the news story about it which was also included in the last newsletter. Toeg Yamba story
Now the real, actual, finally final final container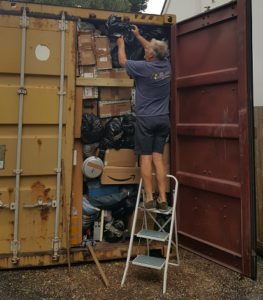 Now, the real, actual, finally final final container is on its way to Ouagadougou. It is due at Abidjan in Ivory Coast this week before it takes a journey by rail to Ouagadougou. It contains a minibus and 20+ school desks and 100+ chairs courtesy of Grange School, Christchurch. This furniture will go to the new school at Yambassi. It also contains football kit kindly donated by AFC Bournemouth which will bring smiles to many small boys. There are many other things in the container – there were over 400 items on the manifest.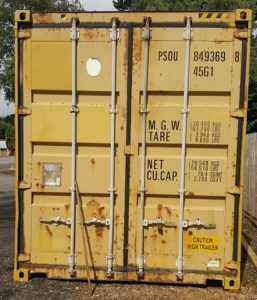 But it will be the last container. Changes of circumstance mean that Myra's Wells has to concentrate on wells. Having said that, if there are younger people who would be willing to take on this work, then please contact Eddie at eddie@myraswells.org or by phone, and he will be able to tell you what is involved.
We want to say "Thank you" to Poppy!
Who is Poppy?
Last November, we received an anonymous gift via JustGiving. The only clue we have is that the message says that it is from "Poppy, aged 7". None of us has been able to work out who this is. So, we haven't been able to say "Thank you". If Poppy is reading this – or you are Poppy's mother or father – or you just know who Poppy is, please can you pass on our "Thank you" to her?
There are other gifts that we have received anonymously as well. Some have come via online giving sites. Others have come directly to the bank account. All these gifts are so much appreciated by us and by the people in Burkina Faso who now have clean water available to them.
And this is an appropriate moment to say "Thank you" to everyone who has helped us provide wells throughout the last year. We try to send personal "Thank you"s to everyone, but have probably failed. If this is the case, you have our apologies – we will be trying harder in the future.
Online giving
We have been reviewing the charges made by online giving sites
Online giving sites have made it very easy to give to charities. We know there are some who have donated this way, when it would have been impossible to give any other way. But most of the well-known sites charge commission. Some also charge a monthly subscription. The trustees fund monthly subscription cost, but the commission charges are deducted before the money reaches us. So we have carried out a review of these charges and have come to the decision that we will have to stop using some of these sites.
The two which we currently offer
The two with which we are registered are JustGiving and Virgin Money. This little table shows the amount that we would received from a £10 gift with GiftAid and paid by credit card. If this is donated directly to Myra's Wells by cheque or bank transfer, we would receive £12.50. The table also shows the amounts when GiftAid is not possible:
| | Amount received with GiftAid | Amount received without GiftAid | Monthly subscription |
| --- | --- | --- | --- |
| Virgin Money Giving | £12.15 | £9.65 | |
| JustGiving | £11.74 | £9.24 | £15 |
We feel that the deduction on JustGiving is too much and we have decided to terminate our agreement with this site. This will take effect in the next few months – the final details will be in the next newsletter. We are exploring other Online giving sites, including one called Wonderful.org which charges zero commission. If we join this site, we will give details in the next newsletter.
Visit to Burkina Faso – would you like to come?

Visits to wells and potenial well sites in January
As has become the norm, Eddie and Karen are planning to spend time in Burkina Faso in January to visit wells and potential well sites. They will be joined by John (another of the trustees) and maybe a couple of other people. If anyone else would like to join them, an email to eddie@myraswells.org or a phone call will bring you details of what is involved. It is guaranteed sun and wells visits. But – warning – it involves numerous injections which need to be started in late October, unless you have already had them!
Finally
We would like to know what you think about the newsletters

We are keen to improve these newsletters. If you don't mind, could you give us feedback by replying to survey@myraswells.org? Specifically, we are interested in answers to these questions. Feel free to mention other things as well, of course
1 – Is the amount of information we give you in the newsletters (A) Too little, (B) About right (C) Too much – (you are busy!)?
2 – How often should we update you with the newsletters? (A) Quarterly as now, (B) Every 4 months, (C) Every 6 months, (D) Once a year.
3 – What one thing would you change in the newsletter style, content and format?
Replies can just be (for example) "Q1 – B, Q2 – C, Q3 – More info about drilling process"
Thank you
Many of you support us regularly – thank to everyone for your gifts. If you would like to start supporting Myra's Wells regularly, please ask for details – or look on the web site using this link.
And if there is an opportunity for us to come and do a presentation at your church or other group, we would be very pleased to do so – there is no charge for this, of course.
Thank you for your prayers.
Myra's Wells trustees.